News: A new dodgeball game is on the way and you can get your first look at it in December when it hits early access.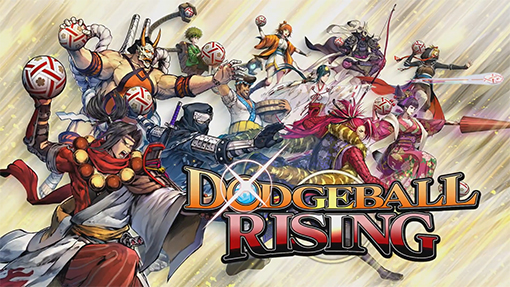 Dodgeball Rising is getting ready to enter Steam Early Access next month. Developed by Asakusa Studios, Dodgeball Rising aims to deliver the ultimate showdown experience, supporting up to six players for fast-paced competition and furious fun.

Set in the Edo Period in Japan -- where swords and duels have been banned by the government --Samurai, Ninja, and even Sushi Chefs, gather to settle conflicts and disputes over a game of Dodgeball. With support for up to six-player matches, a wide array of unique Dodgeball warriors from all walks of life, simple controls, and engaging special moves, Dodgeball Rising brings the classic schoolyard sport to life as never-before-seen.

Some of the key features include:


A Remarkable Roster - Choose from 11 unique Dodgeball warriors from all walks of life -- each with different playstyles and skillsets, including Samurai, Ninja, Sushi Chefs, Kabuki Entertainers, Sumo Wrestlers, and more!


Become A Hero - Using the different stats, play styles and unique skills of each character, you can become a hero with your own distinctive play style.


Various Offensive Actions - Work with teammates for consecutive shots, tricks, slow shots and other moves to surprise your opponents and keep them on their toes.


Arcade Mode - Enter the Ultimate Imperial Dodgeball Tournament in this single player mode, and unique story for each character.


Simple Rules - Victory is defined simply by taking down your opponents. Outlast your opponents by playing well on the court.


Offline and Online Multiplayer - The game can be played locally or online with up to 6 players. AI players can be called in to fill empty slots.


Amazing Specials - Build up your Rising Gauge to unleash a variety of over-the-top special moves and attacks to defeat your opponents.


Dodgeball Rising will enter Steam Early Access beginning December 14, 2017. Take a look at the trailer below and tell us what you think. Will you be jumping in during the Early Access period?