Reviews: After taking a year off, Assassin's Creed: Origins is a move backwards in time, but forward in design.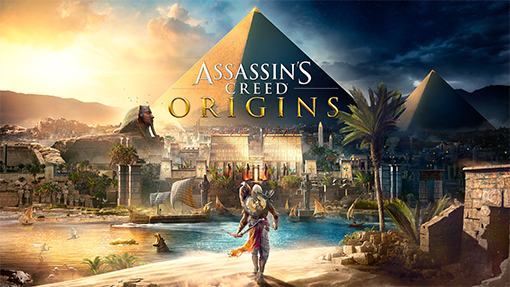 Assassin's Creed: Origins is unique in the AC series. This is the first time that the series takes a definitive jump backwards in time, after coming dangerously close to the present day with 2015's Assassin's Creed: Syndicate set in Victorian London. Despite having gone backwards thousands of years to tell the titular origin story of the battle between the Assassin's and the Templar's, Origins seems to have delivered on Ubisoft's promise to rethink the series after taking a year off in 2016.
I was originally skeptical to see Origins taking the series in such a new direction as a full-fledged RPG, but my fears were quickly assuaged as I began to slowly explore this massive world that Ubisoft had created. While the viewpoints were still there, they were no longer required to uncover points of interest on the map. This allowed for more natural exploration, as I began to head to different "?" marks on the map, attempting to uncover the myriad secrets that lay around for players to discover.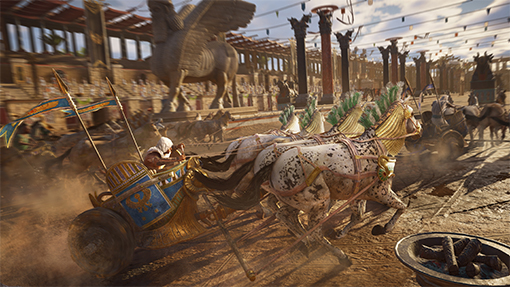 While I was impressed with the density of the map and how much there was to do, what truly surprised me was how unique and varied all the missions felt. Most of the side missions had full cinematic cutscenes and felt almost like longer questlines that you would find in other massive open-world RPG's like the Witcher. These multi-layered and intricate quests allow Origins to serve as a master class in RPG quest design where the tired and boring fetch quest is replaced with a mission that feels meaningful and important to the world of Ancient Egypt. This became a necessity throughout the game, because with a map as big as Origin's and so much to do in the densely populated map, the strong variation in mission design prevented any one thing from feeling too monotonous or repetitive.
While only a small portion of the many secrets that this game allows you to discover, I found the main story campaign to be quite strong, despite failing to grip me in the opening few hours. In my first few play sessions, I felt that the new protagonist assassin, Bayek of Siwa, was rather unlikable and fueled more with a desire for personal revenge then for some greater purpose. Later on in the campaign, however, Bayek's quest for revenge becomes one of the most intriguing parts of the story as players are forced to make morally grey decisions. Past assassin's in the series, like Ezio Auditore, were always so likable that it was hard to feel bad for anyone that met his blade. In Bayek's case, however, I found myself questioning if many of these victims had to die at all.
I may be in the minority on this part of the story, but as a longtime fan of the Assassin's Creed series, I always enjoyed the present day Abstergo story that ties all of the games together. Ever since Desmond's death in Assassin's Creed 3, it is this part of the series that seems to have been neglected the most with the most recent entries, and Origins' has a strong start by giving you control over your present-day character, Layla, from a fairly early point in the game. Unfortunately, your time with Layla is over sooner than later and does not do much to advance the plot of the present day conflict between Assassins and Templars. Still, I was happy to see that the year off retooling of the series didn't cause this to be completely forgotten.
Many of the mechanics of the series also have been completely transformed, and most for the better. One such change was with climbing, one of the most famous staples of the franchise. Clearly inspired by The Legend of Zelda: Breath of the Wild more so than Horizon: Zero Dawn, virtually every surface is climbable. Gone are the frustrating viewpoints of Assassin's Creed II, and some that were even blocked off until you gained certain abilities. Most of the viewpoints can be scaled without putting much effort into it. While some might be disappointed that the climbing has been "dumbed down," I was happy to sacrifice that for the sake of exploration, and to see the combat difficulty raised in it's place.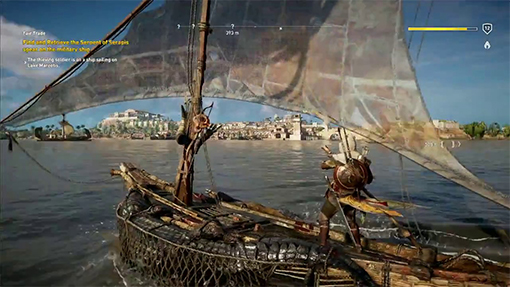 In line with the new combat mechanics comes another first for the series. At the beginning of the campaign, you can choose a difficulty. Regardless of what difficulty you chose, however, combat is still more difficult than any previous game in the series. This is in part thanks to the introduction of a level system, and makes you think more carefully about taking on certain fights. I found enemies even just a few levels higher than me could take me down in just a few hits. Thankfully, with the updated progression and ability system, players can choose to invest points in a way that suits their own play style and can make some of the more challenging fights a lot easier.
One of the new features and mechanics in the game that I felt the most underwhelmed with was the weapons. In previous installments in the series, you could simply buy more powerful weapons from a blacksmith that granted modest boosts to your damage. That is fundamentally overhauled for Origins, with a weapons system that felt much more like Destiny. All of your equipped weapons and armor increase your damage and health. While the variety of common, rare, legendary, etc weapons was a nice improvement, I felt that the legendary weapons were far too common and could be found for completing many story missions. I also felt that there weren't enough special effects for weapons other than increased damage. Some weapons provided increased fire damage, but most of the time I found myself simply scrolling through my new weapons to find which one had a green arrow, without having to consider weapons that might be better suited against certain enemies or in certain conditions.
At a time when issues and controversy surrounding microtransactions are at its height, I think it is important to mention my experience with them in Origins. The honest answer is that I hardly noticed they were there. While they certainly did exist for players who wanted specific cosmetic items, little pressure was placed on the player to actually buy these items. There were some progression based microtransactions like buying locations on a map or ability points. All of these though are listed as "time-savers." I never felt the need to spend a penny on them, and I had to question if you did choose to buy them, did you really enjoy actually playing the game? Ultimately, though, I found the most egregious consequence of these microtransactions were that you were just choosing to cheat yourself. If there is a market for that, so be it. I do appreciate, however, that the microtransactions are not just a button press away, and you have to go to a specific, somewhat hidden screen on the main menu to find them.
Assassin's Creed: Origins is the most complete and in-depth installment in the series. Where this will rank for you among the rest of the series will likely depend on how interested you are in the setting of Ancient Egypt over, say, Renaissance Italy and your personal preference for protagonist. Apart from that, it is hard to argue that any previous game in the series, even in the RPG genre as a whole, gives players such a level of freedom, customization and autonomy over your adventure as Origins. As engaging as the main story was, some of my best memories of this game that stick out to me are from the intricate and multi-layered side quests. Despite a few underwhelming holes, Assassin's Creed's first "leap of faith" into the open-world RPG genre is a true masterpiece.