News: Nintendo Switch gamers finally get their chance to play this old school platforming title developed by Playtonic.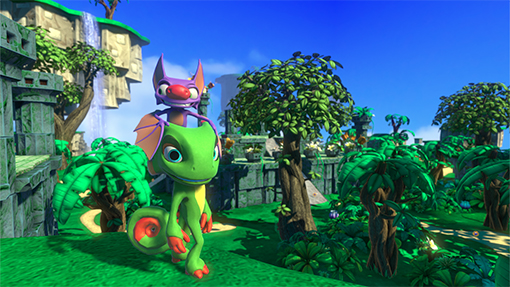 Winter is still a week away but Yooka-Laylee is coming in hot as it just appeared out of nowhere on the eShop for the Nintendo Switch. Yooka-Laylee on Nintendo Switch includes several improvements and many fan-requested features. Developed by Playtonic and published by Team17, Yooka-Laylee stars the charismatic new buddy duo Yooka and Laylee, who use an arsenal of special moves to explore – and expand – 3D worlds filled with collectibles to discover, secrets to unlock and a cast of quirky characters to meet (or defeat).

"We spent many months adding significant optimisations and dozens of game updates to ensure the Nintendo Switch version of Yooka-Laylee really is the bee's knees." said Gavin Price, Studio Director at Playtonic Games. "There's single Joy-Con support across our eight multiplayer games, and a huge list of changes; including brand new camera mode, control improvements, and menu options. There's a lot!"

Some of the key features in Yooka Laylee include:


Take on Capital B with Yooka and Laylee anytime, anywhere on Nintendo Switch!


Play with your friends. Split Joy-Con support is offered for eight unique local multiplayer arcade games (up to four players).


Get all the stuff! Yooka-Laylee will reward you for playing with lovely Nintendo Switch achievements.


Five engrossing worlds that can be explored and expanded. Expanding a world adds in new areas to explore, new characters to meet and bosses to defeat. Visit Tribalstack Tropics, Glitterglaze Glacier, Moodymaze Marsh, Capital Cashino and Galleon Galaxy.


Yooka-Laylee is available for $39.99. Will you be picking it up on the Switch? Take a look at the launch trailer below and tell us what you think.