News: The Assassinís Creed game where you can play from the perspective of a Templar is headed to Xbox One and PS4 soon.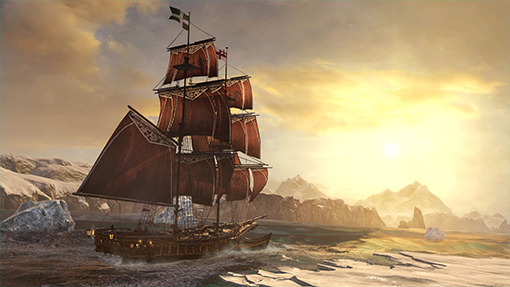 Assassinís Creed Rogue is getting the remastered treatment and will arrive in March. This has been rumored for quite a while and there were even ďleaksĒ with some Italian retail outlets a couple months ago but Ubisoft finally confirmed it today. Assassinís Creed Rogue was originally released for the Xbox 360 and PlayStation 3 back in 2014. Assassinís Creed Rogue was the swan song for the franchise on those last gen systems while Ubisoft also released Assassinís Creed Unity to try and take advantage of the new power that the Xbox One and PlayStation 4 possessed. With Assassinís Creed Rogue being somewhat of a transitional title a lot of gamers have wanted Ubisoft to release it on Xbox One and PS4 and that is finally going to happen. Assassinís Creed Rogue is notable for its ties in to both Assassinís Creed 3 and for leading right up to the events in Assassinís Creed Unity. It is also the first (and only) Assassinís Creed title that lets you play from the Templar perspective. During the adventure you get to see how they view themselves and the world and how they view the assassins as the bad guys.

For those who arenít familiar with the story, the premise is below:

ĒAs Shay, you will experience the slow transformation from Assassin to Assassin hunter. Follow your own creed and set off on an extraordinary journey through New York City, the wild river valley, and far away to the icy cold waters of the North Atlantic in pursuit of your ultimate goal, to bring down the Assassinís.

18th century, North America. Amidst the chaos and violence of the French and Indian War, Shay Patrick Cormac, a fearless young member of the Brotherhood of Assassins, undergoes a dark transformation that will forever shape the future of the American colonies. After a dangerous mission gone tragically wrong, Shay turns his back on the Assassins who, in response, attempt to end his life. Cast aside by those he once called brothers, Shay sets out on a mission to wipe out all who turned against him and ultimately become the most feared Assassin hunter in history.Ē

Assassinís Creed Rogue Remastered is set to be released on Xbox One and PlayStation 4 on March 20. No pricing details have been announced at this time. Take a look at the trailer below and tell us what you think. Will you be picking up Assassinís Creed Rogue Remastered in March?