News: EA has changed some things up with new features and some new tech to make this the most realistic UFC game to date.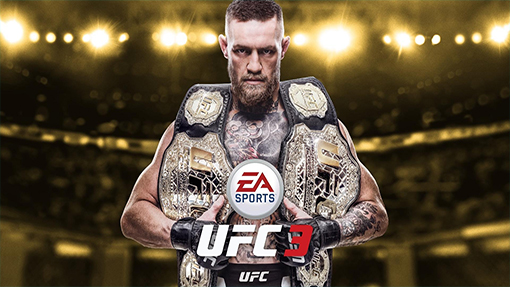 EA Sports UFC 3 is now available. This new iteration is bringing the thrill of mixed martial arts back to consoles with new gameplay features and animations, new social modes to challenge friends, and a new G.O.A.T. Career mode that delivers excitement both inside and outside of UFC's world-famous Octagon.

"EA SPORTS UFC 3 is the most realistic mixed martial arts game ever made," UFC President Dana White said. "The new G.O.A.T. Career Mode gives you the opportunity to go from contender to champion by promoting your brand and performing inside the Octagon. This game has it all."

"We've completely reinvented our striking game with Real Player Motion Tech, and we think fans are really going to love it," said EA SPORTS UFC 3 Creative Director, Brian Hayes. "We've also incorporated a lot of fan feedback in the new G.O.A.T. Career mode, and throughout the whole game. It's great to be back after two years working on this amazing game."

Real Player Motion (RPM) Tech is a new EA Sports animation technology that sets a new bar for motion and responsiveness in the best-looking - and now the best-feeling – EA Sports UFC game ever. With over 5,000 new animations captured and rebuilt from the ground up, players can now move, strike, and create seamless combinations in-game with the world's best mixed martial arts athletes.

EA Sports UFC 3 also introduces the new G.O.A.T. Career Mode where – for the first time – the choices made throughout your career impact your path to greatness. Outside of fights, players will make promotional choices to build hype, gain fans, earn more cash through big contracts and capture the world's attention.

Building on the fan-favorite Knockout Mode introduced in EA Sports UFC 2, EA Sports UFC 3 delivers a new suite of multiplayer modes designed for fast, fun fights that are perfect for letting fists fly when playing against friends, now with commentary from the one and only Snoop Dogg. Those looking for a quick social experience can jump into Stand & Bang mode, Submission Showdown mode, and the all-new Tournament mode, which offers ultimate bragging rights as players attempt to take on as many opponents as possible in bracket-style elimination rounds with continuous damage and fatigue.

If you are an EA Access member you can download the trial for now and see for yourself what you think about the game. As an EA Access member you will also get 10% off the game if you buy it from the Xbox store. Check out the launch trailer below and tell us what you think. Will you be picking up EA Sports UFC 3?