Reviews: Embark on this emotional journey in all of its glory as you try to take down the giant Colossi to save someone you love.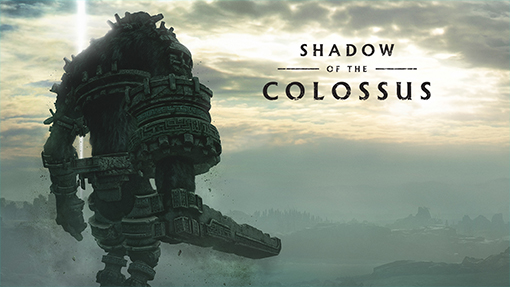 Shadow of the Colossus is a beloved title and almost immediately developed a cult following when it was originally released on the PlayStation 2. It was a big surprise last year when Sony revealed that it would be getting the remaster treatment for PlayStation 4 and that gamers wouldn't have to wait long to play it. As soon as I started my playthrough I was immediately impressed with the care and detail that both Sony and Bluepoint put in to this title. Shadow of the Colossus looks stunning on the PS4. The fields now have grass that sway in the wind and when you are swimming the water now has realistic ripple effects. Your horse Argo also looks fantastic but the true stars are the Colossi themselves. To put into perspective how much work was put into this remaster Sony revealed that Colossi in the original version had approximately 20,000 triangles and now with the PS4 remaster they have around 250,000 triangles. Some of them have a lot more, such as the 16th Colossi which has almost 1 million triangles. So what that essentially means is that there is a lot more detail this around as the Colossi have realistic hair that you need to grab and hold onto as you attempt to climb up them to find their weak spot(s).
As soon as I started my adventure I noticed that the PS4 version does indeed control better than the PS2 version which is appreciated. Some of the buttons have been changed though which might take a little getting used to As you are battling the Colossi this means you might fall an extra time or two thanks to muscle memory but the battle is still worth it as you work to bring these monstrosities down to earth and it can be really satisfying once you are able to accomplish that. Another thing that is immediately apparent is the overall performance of the game. In previous iterations there were some frame rate problems from time to time but that has been largely fixed, depending on how you choose to play the game. If you have a PS4 Pro and set the game to performance mode, for example, the game will maintain 60 FPS with minimal sacrifices in overall quality. Thanks to the improved detail in the game this also means the draw distance is much better allowing you to see the horizon much more clearly. The detail doesn't stop there obviously. Utilizing the power of the PlayStation 4 they were able to utilize dynamic depth of field, motion blur, and volumetric fog which translates into a really great atmospheric adventure.
For those who don't know Shadow of the Colossus is basically a boss fight game where you simply run from boss fight to boss fight. The story is fairly simplistic as a young woman is in your care but something is very wrong. You are told that taking down these Colossi will help her out so you embark on your journey to do just that. As soon as you leave the temple you will immediately have a wide open world available to you. You can feel free to explore at your leisure or hold up your sword which shine a light that will tell you where you need to go to tackle your first "boss fight." The world is still pretty empty other than the huge Colossi that inhabit it but if you are a fan of this game you won't are as you race around trying to see everything that has been upgraded.
I have already talked quite a bit about how beautiful this remaster is but you can make it even better with the new photo mode. This photo mode can make a great game look even better by utilizing the different filters such as intensity, grain, exposure, contrast and more. You can also change the saturation, color, the range you use and a plethora of other options. I'm actually really excited to see some of the great pictures that the community will come up with once this game is released to everyone. There are also easter eggs for you to find throughout the game, such as Trico's Treats.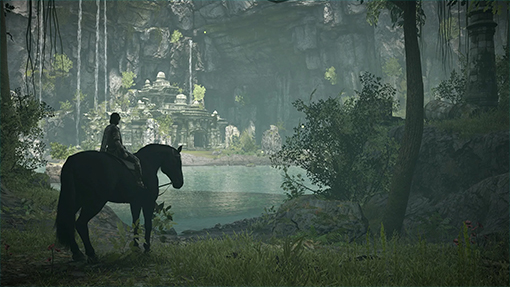 As I made my way through this game it was hard for me to believe that it originally came out in 2005. This game isn't perfect though and there are some annoyances like how you have to battle the camera from time to time. This can result in you getting "lost" in crucial moments and as you attempt to fix it you might get tossed from the Colossus you were trying to take down. Once you figure out how to get past this though then you should be fine and it is as satisfying as ever to take down one of these beasts, while at the same time being a bit heartbreaking. You have an internal struggle of not really wanting to kill these beasts but you have been told it is the only way to successfully complete your mission. Before you enter battle though you need to take a moment and observe your monstrous opposition. If you run in guns blazing, so to speak, then you are going to have some difficulty. If possible you want to try and take note of how the Colossus you are fighting moves and whether or not they interact with the environment. The more you understand the Colossus you are trying to take down the easier your battle will become.
In between these epic encounters you will be traversing the open world and you will want to keep your eye out for shrines. It was here where I would find salamanders and you are specifically looking for the white tailed ones. The reason for that is that by collecting these tales it will increase your stamina, which means you will be able to hold on to a Colossus for longer before your character gets tired. This can be crucial, especially later in the game, as you want your character to hold on as long as possible while the Colossus is doing everything he can to try and make you fall back to the ground. You will also want to try and look for some trees that have some fruit. If you shoot these down and pick them up they will increase your health bar and help to restore any health you might have lost.
Shadow of the Colossus is a shining example of a brilliant remaster and one of the best that has been released during this generation of consoles. The level of detail that has been put into this game is exquisite and it is hard to believe the original came out well over ten years ago. If you are someone who is a big fan of the game then you should love what the development team has done here. If you are someone that always wanted to play Shadow of the Colossus but never got around to it then I highly recommend you play this version. It has that cult following for a reason and now you get to experience it as the developers originally intended. If you are playing it with a PS4 Pro it looks even better and will give you the smoothest experience possible. If you own a PlayStation 4 (regardless of which model you own) you owe it to yourself to check this game out.