Reviews: Server issues and step backwards offline leave Sony's latest baseball entry with a harsh JUDGEment.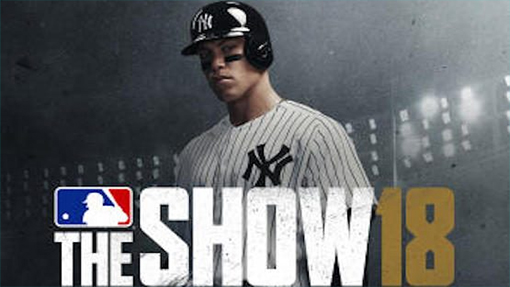 When MLB 18: The Show was first revealed, their opening tagline was that "The Future is Here." In some respects, that is true. Gracing the cover is the reigning American League Rookie of the Year and MVP runner-up, Aaron Judge of the New York Yankees. While the future stars of the next generation of baseball fans are here, the future of the only console baseball simulation game available seems to have passed them by.
Perhaps it is from lack of competition, but MLB The Show has for years been the best way to play a baseball video game. Even in the ill-fated years of the MLB 2K series, The Show prioritized realistic graphics, gameplay and features over the arcade style of both 2K and the current RBI Baseball series that is being developed in-house by Major League Baseball. That still holds true this year. This year's game is still produced at the high-quality longtime fans of the series have come to expect, but it has continued a recent trend of failing to improve on the previous year's version, leaving some fans wondering if a $60 dollar price tag is worth a roster update.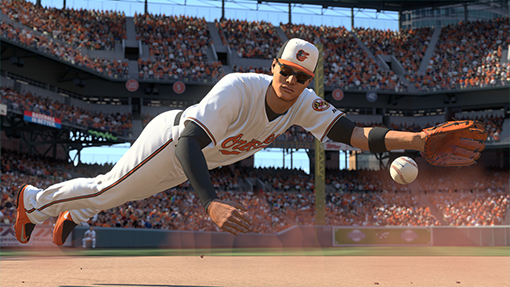 In a surprising move, in the weeks leading up to the game's releases, the developers at San Diego Studios broke the news to fans that this year's version would not have an online franchise mode, which had been in the series for many years. The studio gave little explanation for why this decision was made apart from the fact that the decision to focus on improving servers meant the mode would not make the cut this year. Online franchise was not nearly as popular as the series flagship online mode, Diamond Dynasty, but it does seem to be an odd omission considering how little attention or upkeep has gone into franchise, both online and off, in the last several years. It is also worth noting that season mode, where you guide your chosen team through a single season rather than a franchise long commitment, also received the axe, but this was not announced prior to the release of the game.
Fans of the series who do want to play offline do still have the option to make an offline franchise or play Road to the Show. Neither mode has changed much from last year. The only tangible updates to franchise mode seemingly are there to benefit those who enjoy the front end aspect of the mode rather than on the field gameplay. By dividing the season up into phases, those who choose to sim large chunks of the season can do so without worrying about missing important moments such as the draft and free agency.
Road to the Show received the largest offline update from last year. The first major change was largely welcomed by fans, by removing training points from the character progression system. Rather than being able to dump your stubs (online currency) into training points and having a phenom 22-year old 99 overall shortstop, progression will be based on your in-game performance. This provides an added incentive to play as many games as you can, including in your minor league journey, as you look to get the call-up to the show as soon as possible.
Another major change Road to the Show received was the introduction of character archetypes. Upon creating a player and choosing your position, an MLB scout will prompt you to choose an archetype modeled after other players at the positions you want to play. If you want to receive a call to the Show as soon as possible, you can choose an archetype that matches up well with your position. If you choose a power hitter archetype at shortstop, however, and don't prioritize your fielding skills, you may find yourself still in AA for quite a few seasons. This change adds to the realism of the mode, recognizing that no one can be a truly perfect 5 tool player.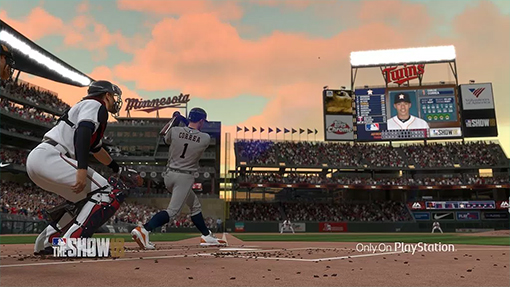 Those who still enjoy spending real world money for stubs don't need to fret that they were removed from Road to the Show. San Diego Studios will still gladly take your money, you just now can only use them in Diamond Dynasty. Diamond Dynasty largely has stayed the same from last year, where you can build your dream team and complete missions to upgrade to higher tier cards. This year's version, however, now has a handful of baseball's greatest players, referred to as Immortals in the game. To unlock these immortals will require a great deal of time or money spent grinding out missions for lower tier players and career arcs, but the reward for doing so is great. Many of the immortals now can eclipse a 99 rating in the areas they were most renowned for. Stepping up to the plate with the Sultan of Swat gives you a new fearsome cap of 125 for your contact and power ratings against both Left and Right handed pitchers. Combine these new stats with some of the best equipment Diamond Dynasty has to offer and you will reign supreme.
All in all, the MLB: The Show series continues to be a very solid baseball franchise, but for the past few years it has failed to make the leap to a great series. The server issues are still plaguing the game, as it seems to do every year, and its offline modes, particularly franchise, are now being passed by other sports series. Both the NHL series (which allows for three team trades), and the Madden NFL series have franchise modes that either rival or just simply surpass the depth that is available in The Show. If you are someone who constantly plays Diamond Dynasty every year, or a realistic baseball fanatic who wants to see the correct rosters for every team down to their farm system, then this year's version will again be a must purchase (at least once the Operation Sports team releases their official rosters). If you mostly play offline, however, and don't mind having slightly out of date rosters, it is hard to recommend the $60 dollar price tag as it stands right now.