Reviews: Yakuza Kiwami 2 is a great follow-up to Yakuza Kiwami with a great narrative and side quests that will keep you busy.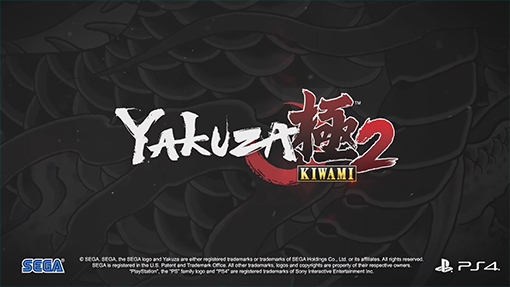 Yakuza Kiwami 2 is now the 4th Yakuza game to be released on the PS4 and is a direct follow up to the remake of the original game. It takes place 1 year after the events of Yakuza Kiwami and Kiryu has passed leadership of the Tojo clan on and effectively retired from the life of a Yakuza. As you might expect, it's not quite as easy as that. Events transpire that drag Kiryu back into the drama and danger of the struggling Tojo clan and that of rival crime syndicates and he will have to confront his past in order to secure a future for himself, his friends and for the Tojo Clan itself.
If you've never played a Yakuza game before then this might not be the best place to pick up in terms of narrative but there is an optional section in the beginning where Kiryu "remembers" the events of the first game with narration and video of pivotal events. This does a fine enough job of getting you caught up on the major events and characters that impact the story of Kiwami 2, which is itself mostly self contained. You can certainly enjoy the gripping crime drama that unfolds without having prior knowledge of other Yakuza games but the gravity of some events will certainly be a bit heavier. There's no shortage of new characters that each have their own compelling motives within the overarching narrative and the way the history of some of those characters overlap with Kiryu and his past creates interesting storytelling dynamics throughout the game. In a game with many strengths it is the central narrative that still manages to stand tallest and carry the most weight. Characters are believable and have struggles that carry enough emotional weight to make you root for them and compelled to see their story through to the very end. In addition to the entirety of Yakuza 2 remade in the Dragon Engine there's also a brand new story featuring the "mad dog of Shimano" Goro Majima. Chapters of this story unlock as you complete the main game and the story chronicles events that transpire not long after the events of the first game. The Tojo Clan is in a state of change and not everybody is happy with the direction Terada the Tojo Clan's 5th Chairman has decided to take the organization. Tensions flare up as Terada's so called Tojo Reformation shakes up the ranks and a power struggle ensues that lands Majima right in the thick of it all. Short though it may be it's fun to step into the shoes of Majima and his unique fighting style (complete with signature blade) to tear up the streets of Kamurocho and Sotenbori from a different perspective. It's a worthwhile story that gives extra insight into one the series best characters and how he came to walk away from the Tojo clan until he once again meets up with Kiryu the following year.
The game plays out in two cities. One of course being the Tojo Clan's hometown of Kamurocho, Tokyo and Sotenbori, Osaka. Each city has it's own visual style and set of unique side stories and activities. You'll travel between the two a couple of times as part of the story but you won't be able to travel between them at will so it's best to get the most out of your stay in Osaka before moving on. While the game doesn't feature the multiple fighting styles to switch between the way Yakuza Kiwami and Yakuza 0 it does import the Dragon Engine's combat from Yakuza 6 and as such it ensures there's still enough upgrades and depth to make it satisfying. In addition to unlockable finishers and disarming moves you can also store weapons and unlock "ally moves" that are location sensitive and available if you've helped out certain characters within each of the cities. Another returning feature from Yakuza 6 is the clan creator system in which you'll build up an army of citizens to help Goro Majima defend his construction operation from rival real estate sharks that want to move in on his lucrative deal. It's one of a number of side activities that Yakuza is known for. Kiryu will also get roped into managing a struggling cabaret club and once you do it once early on in the story you can come back to it as often as you like, or choose to not engage with they system at all. So much of the series' strength lies in variety and choice and that's represented wonderfully in this remake of the second game. While you can choose to mainline the story and get plenty out of the experience, there's dozens of side stories that find Kiryu in absurd circumstances that frequently had me in stitches.
The game's style and presentation ensure that you're always engaged with what is happening on screen. Camera angles and cuts are excellent and cinematic during story sequences and every shot manages to capture the emotion and gravitas of any given scene as it plays out. Every cut scene has full Japanese voice over (sorry no English track) and for every minute of drama there's at least one more of hilarious absurdity. The cities are as wonderfully detailed as they are dense with things to do and find. Both can be explored during day or night with a quick rest at your home base unless story events prevent you from doing so. You can even walk around the city in first person which I found to be helpful when looking for locker keys and for when I just wanted to take in the detail of the city a little more intimately. It transitions smoothly and automatically if you enter combat as there's no system to fight in first person. Once you finish you can take on a premium adventure that allows to you clean up any side activities you like without any additional pressure or you can use your save file to start a New Game+ and carry over elements from your first play through. With so much to do and see there's a good amount of replay value, especially once you know the twists and turns of the main narrative.
Yakuza Kiwami 2 is neither the best place to start in terms of narrative or the game with the widest set of combat options. With that said it's still a well made action RPG whose strength lies in it's narrative, style and personality. A deep but easy to understand upgrade system gives you ample reason to engage with all of the systems and side stories in order to get the most out of Kiryu's abilities. There's a couple dozen hours worth of things to do in Yakuza Kiwami 2 and it stands as one of my favorite video game narratives I've experienced in 2018.