Reviews: A fun title that delivers the thrills of exploration and cooperative play, but is brought down by repetitive gameplay and dull boss encounters.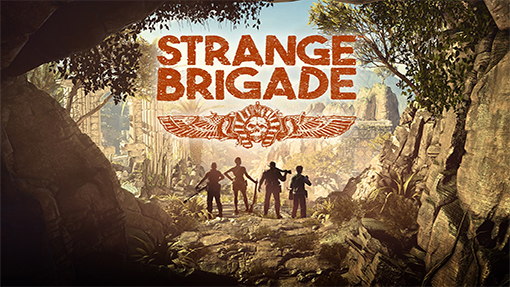 From the moment you descend from your zepplin for the first mission in Strange Brigade, the inspirations for this setting and this game are clear. From the over the top voice overs of the black and white story intros, it is easy to feel as though you have been sucked into an Indiana Jones style adventure or another early 20th century war time movie. The gameplay certainly can be fun while you mow down undead and mythical creatures that are all well designed, yet the sheer amount of enemies thrown at you can quickly becoming tiring. Strange Brigade certainly is able to provide for hours of fun, but its repetitive gameplay quickly leads to burnout and an almost nonsensical and unconnected story spoil what is otherwise an interesting and unique adventure in Egypt.
The premise of Strange Brigade is that after an accident occurs in Egypt, the British military sends in the Strange Brigade, which is comprised of four different playable characters all with their unique skills and character traits, to go and investigate. Despite the fact that the story doesn't quite keep you engaged throughout the main campaign, its premise is laid out just enough in the beginning of the game to give you a reason for needing to traverse this cursed land while everything from skeletons to animated Egyptian sculptures seek your doom. Luckily, however, Strange Brigade is not focused around its story. The aspect in which Strange Brigade shines best is its gameplay, particularly with the online cooperative play.
Unlike many cooperative games, where having a partner can be the difference maker in helping you clear a challenge or a particularly difficult boss, Strange Brigade's co-op play does not provide a short cut for the player. Oftentimes, enemies will scale to be more difficult, or you will just be ambushed by an even larger amount of them as more players join your party. Even puzzles and other environmental challenges will change from when you are playing single player to multiplayer. This provides a more realistic feel to the co-op play, as you won't just be able to carry your teammates to victory, nor could they carry you alone. If you want to clear a giant ambush and your teammate was killed, you will need to make the trek back to a sarcophagus to free him if you want to stand any chance of making it out of there alive. That being said, as much nuance and excitement as playing co-op can be, playing with strangers rather than friends, or even worse players without a microphone, can lead to some very frustrating moments. Several times during the campaign, I remember solving a particularly tricky puzzle, only to have one of my teammates standing by the door that was unlocked by completing the puzzle and claiming that loot that I had earned. On the other side, you also will not want to leave a teammate alone to do a puzzle, as if you fail three times on the same puzzle it will become locked for the remainder of the level, possibly locking you out of important loot or collectibles.
When it comes to these puzzles and environmental puzzles, particularly later in the game when the loop of murdering thousands of undead supernatural creatures began to wear thin on me, I found them to be both engaging and a good palate cleanser between waves of enemies. Each of the nine levels in the campaign are particularly large with many secret paths to explore and possibly find a puzzle with treasure behind it. The only real issue with these puzzles are that the vast majority of them, shy of one or two, were incredibly simple to complete. Usually, they involve memorizing some sort of pattern and shooting symbols or moving pieces to match those patterns. After a while, you will know almost immediately what you are looking for and can solve the puzzles with few problems. The game also does a good job of making sure you don't miss any of the collectibles by unintentionally passing a point of no return in the level. In each map during the campaign, there are approximately 3-4 crystals which serve as a checkpoint. Everyone on your team must interact with it to unlock the next portion of the map (and in the process closing off the area you were just in). This gives the player a warning to be sure they have explored everything in a particular area they want to before moving on. For completionists, this will prove to be an important feature as each level can last as long as an hour, which can become very tedious if you must replay an entire level just to find one last cat statue that you missed your first time through.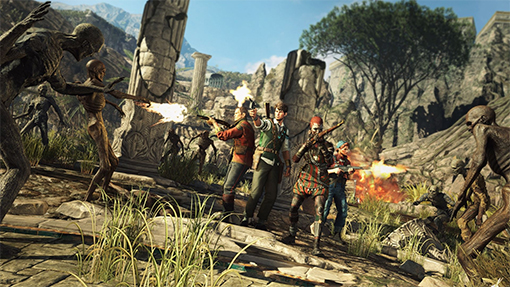 Unfortunately, the boss battles at the end of each level do little to mix up the gameplay from the previous hour you spent in the main level. Most boss battles require freeing a soul from a soul cage and follow the same loop. Step one, take down a third of the cage's health where it will then close up and you must fight off another horde of enemies. Step two, the cage opens back up and you repeat the process twice more until the battle and the level is complete. While a few of the bosses do change things up slightly by requiring you to hit certain weak points on their body that changes with each stage, I was disappointed that these final battles did not change things up enough to be interesting. With as much of an emphasis as there is in the main campaign on puzzle solving to find hidden treasure, it would have been a welcome change to make each boss fight a puzzle in and of itself. Rather, the bosses prove to simply be bullet sponges more than anything else.
When you do finish the roughly ten-hour story campaign, there are still two other modes for you to try your hand at. Both score attack and horde mode provide for a more arcade/freestyle. What I enjoyed most about these two modes is that it gave me the perfect opportunity to test out the different amulet powers and features of the different playable characters and experiment with some of the different gun loadouts available in the game. While none of the characters play fundamentally different from each other, there is just enough nuance that I imagine I will want to dive back into the campaign at some point and play through it with another character.
What made this game stand out from other third-person cooperative shooters is the confidence the developers have in the identity of this game. Unlike other games that try to be many things at once, Strange Brigade is not afraid to be an over the top cartoonish explosion of action. Every aspect of the game is imbued with such style and comedy that it is hard not to smile while playing, even if some of the gameplay mechanics begin to test your patience. The narrator himself feels as though he is an active part of your journey, not just an outside voice telling the story of your adventure after the fact. Virtually everything you do from struggling in large ambush battles or simply staying still for too long will prompt some sort of response from the narrator, but it avoids doing it in a way that feels disingenuous to the style of the game or forced upon the player. His dialogue fleshes out the world that this game takes place in rather than serving as a travelling tutorial that gives you too clearly obvious clues when you get stuck.
While Strange Brigade is without a doubt a flawed title, there still is plenty of fun to be had in this quirky, and uniquely British, adventure. While the gameplay likely will be tiring by the end of the campaign, there is enough nuance hidden within the game to encourage you to come back for a second playthrough at some point, even if it is just to clean up any collectibles you may have missed. It is worth noting that this game at release is priced at only $50.00, making it a perfect title for someone looking for a fun and goofy game without spending the full price of other AAA titles on the market today.