Interview: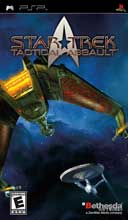 Whether you are gamer looking for a handheld title that requires tactical thinking, or a Star Trek fan looking to hop back into the Trek universe,
Star Trek: Tactical Assault
should meet your needs perfectly. The product of Bethesda Softworks and Quicksilver Software, Tactical Assault is massive game which appears to possess extraordinary depth. With two surprisingly large campaigns, a number of multiplayer modes, and gameplay, graphics, and controls that take advantage of both the PSP's and DS' hardware, Star Trek: Tactical Assault could easily be
the
handheld game to own over this holiday season.
We had a chance to ask Quicksilver's Rantz Hoseley a few questions and regarding Star Trek: Tactical Assault and were elated to find him as excited about his game as we are!
Gaming Target: Thank you for your time. Would please start us off by introducing yourself and telling us a bit about Quicksilver Software's gaming legacy?
Rantz Hoseley:
Hello, my name's Rantz Hoseley, and I'm the Creative Director for Quicksilver Software, Inc. We've made games for a variety of platforms for over 20 years from PC and Macs to cell phones. Star Trek: Tactical Assault is the first game reflecting the direction and focus our company currently has, which is to bring great games with elements of tactics, strategy, adventure, and role-playing to the handheld market. ST:TA reflects the depth of gameplay we want to bring to handheld gamers, while still making it easy to pick up and play for a limited period of time, like waiting in a Dr.'s office.
GT: Before we get into the gameplay of ?Star Trek: Tactical Assault,? could you tell us about the plots created to drive Tactical Assault's dual campaigns?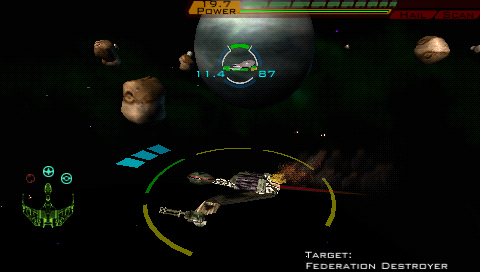 Rantz Hoseley:
I don't want to get too much into this because the story is an important part of the single-player experience, and getting into details of it would be like me spoiling a movie for you. The game is divided into two sequential campaigns that are each 15 scenarios in length. The events of the game take place during the period of classic, movie-era Trek, so say around The Wrath of Khan to about the 6th movie.
The Federation campaign comes first and in it you assume the role of a newly minted Starfleet captain just beginning his career. You'll have your bridge crew, just as Kirk had his, who will banter with you and give you advice and feedback, all with the tone and ?voice' that is very uniquely Star Trek. You can be assured of that because we were blessed to have Original Series writer, DC Fontana, and her writing partner Derek Chester working on the story and creating the dialogue.
After completion of the Federation campaign the Klingon campaign is unlocked. Unlike many games, the 15 scenarios for the Klingon campaign are not just ?mirrors' of the Fed. This is a completely separate series of missions and story arcs with completely different characters, goals, and motivations. It is uniquely Klingon, and was incredibly gratifying to have the two campaigns feel so unique in their identities. We felt like it had been very true to ?Trek' in that way.
GT: A strategy game first and foremost, would you please give our readers a general idea of the unique gameplay that Tactical Assault will be bringing to world of modern handhelds?
Rantz Hoseley:
Tactical Assault isn't a strategy game really? that's a misnomer. It's a tactics game. It's all about the tactical maneuvering and positioning of your ship to take advantage of the enemy's position. Trying to take advantage of their weak points, where you perceive their next move will be, and so forth.
That said, ST:TA is a very hybrid-heavy game. Even though it is a game about ship combat, we wanted the player to feel like they were playing through a season of The Original Series of Star Trek when they play the game. We wanted things like upgrades, interactions, and choices to be character centric, rather than just items on a pull-down menu. We wanted to put the people back in Star Trek. After all, it was always Scotty that got that extra bit of juice out of the Enterprise, and it was Kirk's leadership that made Scotty rise to the occasion. That was what we wanted to get back to. Emphasizing the people and the characters. So upgrades to ?ship abilities' for example, are actually done in an RPG fashion by allocating points to your crew (which comes with you when you upgrade to larger ships). For instance, you might choose to increase your weapons officer's ability to fire more accurately.
We've pulled elements from adventure games, RPG games, and looked at a lot of handheld games. We didn't get hung up on labels with ST:TA. First and foremost, we wanted to create the greatest Star Trek game we were capable of making.
GT: Please tell us a bit about the level of control that players will have over their Starships and what variables they will be juggling before, during, and after combat.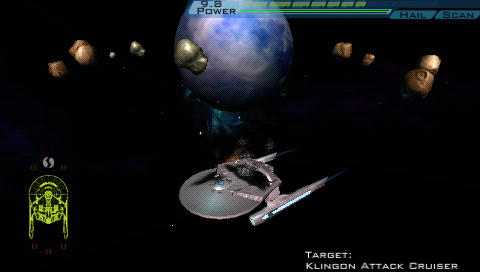 Rantz Hoseley:
Well obviously the player will have control over the navigation of the ship in a direct fashion. On both the PSP and the DS this is done on the D-Pad by using the left and right buttons to turn left and right respectively. The player also uses the D-Pad to control the throttle and ship speed, with the up button increasing and the down button decreasing the ship thrust. On the DS, everything can be controlled by the touchpad in addition to the D-pad as well.
In terms of turning, there has to be some degree of thrust allocated in order for the player to turn? this isn't asteroids. (laughs) You can't just spin in one place and fire at ships coming at you. The player also has multiple weapon types at his disposal. Ships have beam and projectile weapons that are race-specific. So in the case of the Federation ships, those would be Phasers and Photon Torpedoes. You have shields, the ability to hail other ships, the ability to scan ships and other things in sectors, and the ability to warp out to another location. Additionally, there are features such as cloaking which are specific to certain races and ships.
After each mission completion, the player is awarded points which they can then allocate to their crew before beginning the next mission in order to upgrade the crew's capabilities. In this way, the player's able to take some time and think about how to best allocate those points. They must decide whether it'd be better to allocate the limited points towards weapons officer's weapon accuracy or the chief engineer's hull repair speed. Which one does the player think will be needed the most in the upcoming missions?
GT: What ships will the player be controlling and engaging in battle?
Rantz Hoseley:
In campaign mode there are 5 Federation ships and 5 Klingon ships that the player commands. However, as the player successfully progresses through the campaign they will encounter other ships. As they complete those missions, those ships become unlocked as player-usable ships in single-player skirmish mode as well as the two-player head-to-head mode. By the time the player completes the entire game, there are 30 ships available from multiple races such as the Federation, Klingon, Romulan, Orion, and Gorn.
GT: In one of Quicksilver's classics, Star Trek: Starfleet Command, the objects in the vicinity of battles played a sizable strategic role. Will this also be the case with Tactical Assault and, if so, would you kindly give our readers a sense for the strategic opportunities that this system will provide gamers?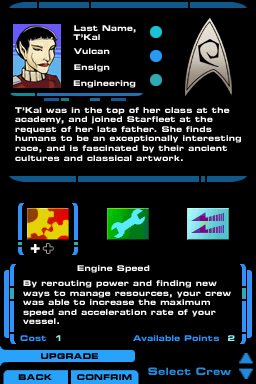 Rantz Hoseley:
Objects in the playing field are definitely an element in Tactical Assault. Planets, space stations, bases, asteroids, and such are important tools for the player. They allow the player to set up maneuvers and blocking points. Anyone who's seen Wrath of Khan remembers Kirk using the planet to shield himself and his crew from detection and in the same way there are distinct advantages to being able to put a large foreign object between you and a wounded enemy while you swing around behind them.
GT: What will the DS and PSP versions of Tactical Assault offer players in the way of connectivity and multiplayer modes?
Rantz Hoseley:
There is two person head-to-head multiplayer mode. That's the case for both the PSP and the DS version. Tactical Assault's ?WiFi' multiplayer is in local AdHoc mode, meaning you have to be in the same room with another player, no play over the internet is supported in this version for either the PSP or the DS.
In multiplayer, there's a Deathmatch mode, a Battlefest mode and a Battlefest Lite mode. In Battlefest mode, each player starts in their races' smallest ship, when you die you come back in the next sized ship and so on. Whoever runs out of ships first loses. There are 5 ships for each of the main races so this takes a bit of time but it's a lot of fun. Battlefest Lite is the same, except with the middle three ships.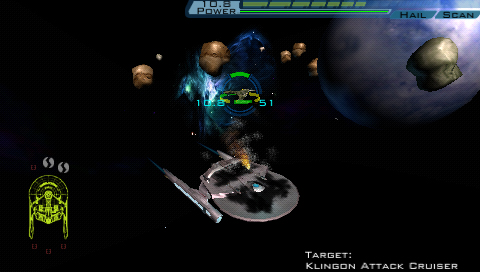 GT: As for Tactical Assault's controls, how is gameplay across the PSP's and DS's distinctly different control layouts?
Rantz Hoseley:
The D-Pad mapping on the PSP and DS are identical. That extends to the four buttons on the right hand side as well. Both systems use identical mapping of those buttons for firing of weapons, hailing of ships and planets, scanning targets, and warping to new locations. The functions of the shoulder buttons on both systems are identical as well. The left shoulder button is used to select and acquire an enemy target. The right shoulder button is held down as a ?shift' modifier to allocate emergency power to a function such as a turn or weapon, for example.
In terms of unique features, we've always looked at aiming towards the strongest experience for the given platform. So for the PSP that meant the ?70 mm Wrath of Khan? experience. For the DS it meant using the touchpad to simulate the navigation system and put the player in the seat of Sulu or Chekov. Supporting that experience meant doing things like having the player able to control movement of the camera using the analog stick on the PSP, and being able to control everything they want via the touchpad on the DS.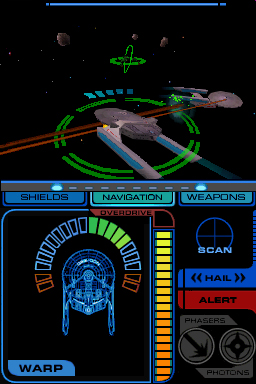 GT: Lastly, could you please tell us about Star Trek: Tactical Assault's audio/visual presentation?
Rantz Hoseley:
It's classic movie-era Star Trek. On the DS, we've presented the user with the experience of being ?at the con' like Chekov or Sulu, down to the scanner lights running on the bottom of the top screen. With the PSP, as mentioned, we've gone for the very ?cinematic' visual approach, taking advantage of that system's aspect ratio and features.
We've really pushed hard on both systems in terms of what they can do. Both systems have ships that suffer damage in a form of gradual degradation, so they can lose things like nacelles, leaving smoking, burning trails of fire as they still try and pull off a last-minute victory. Both games have very dramatic music that has that orchestral score feel that is such a hallmark of Star Trek. The pre-rendered cinematics are the same on both systems, albeit in different aspect ratios.
There are unique treats with each system. The DS has special goodies like the rumble pack support, while the PSP has extras like specular and bump mapping on the ships which really is something amazing to see on a handheld. With the way the story is integrated seamlessly into the gameplay, the scenario staging, the visuals, the drama of the music; we've done our best to make the player feel like they're playing a season of Star Trek in their hand.
GT: Thank you again for sparing us some of your valuable time! Would you care to leave our readers with any last thoughts or impressions?
Rantz Hoseley:
We're as eager as anyone for the game to get out! We want people to be playing the game, enjoying it, and having a great time with it. Hopefully there's some folks out there that will lose some sleep staying up too late playing it, or that will make their girlfriend or wife a little on the crabby side because they will keep sneaking it out of their pocket at inappropriate times to play it. That would be the best thing in the world. If we manage that, then we've done our job. God knows, we're still taking it home and playing now because we want to. We're done. We don't HAVE to play it anymore (laughs) and some of us are still playing the damn thing because we're enjoying it so much. After working on something for over a year? that's saying something.
All I know is that we've made a game going back to the whole idea of ?what made Star Trek great in the first place', and every choice we made came out of that. This isn't a game where you are going to have to know a bazillion things about Trek history in order to enjoy it. But hey, if you
do
, you'll love it! With a play time of 15-30 hours in campaign mode, 30 playable ships, multiple single and multiplayer modes? this is a
big
handheld game that we think everyone will really enjoy and love.
Once again, we at GamingTarget.com would like to extend our thanks to Rantz Hoseley, Bethesda Softworks, and Quicksilver Software for making this interview possible. Be sure to look Gaming Target for continued coverage of this promising title. In the meantime, check out Bethesda Softworks' official Star Trek: Tactical Assault web page.