Specials: Your games will know what you're thinking
File this one under ?creepy cool?: by the end of this year, you should be able to buy a headset that lets you bypass the mouse and keyboard to control your games with only your thoughts. That's right, Emotiv's Epoc headset is able to recognize what's going on in your brain much like a doctor might do with an EEG by monitoring the electrical activity at the surface of the scalp. The headset can then evaluate this activity in real time to allow you to interact with the game simply by thinking about it. I was able to test-drive the headset recently in a short game demo produced by Emotiv, and let me tell you, it seems to work.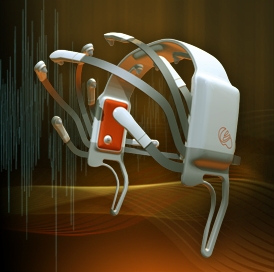 The headset actually looks for three different kinds of input: emotion, facial expressions, and thought. The first is largely subconscious?you feel agitated or calm and the game can react. In the demo, the sky color served as something of a digital mood ring by getting brighter the more exited the player got. Production games could use this feature as an extended emoticon, having an avatar give visual clues as to the player's real mood in-game. The facial expression monitoring could be used in the same way, since the system can mimic things like winks, smiles and scowls on-screen. This was the first part of the demo, and I was surprised to see the digital face aping my expression. I couldn't help but break out in a grin, and sure enough, the little guy did that, too.
The most exciting feature is the Cognitiv direct brain-computer interface that allows a player to think about something and have it happen in-game. The demo of this feature was set in a traditional RPG-style tutorial in-game, and went something like this. I walked up to the trainer, a wizened old man.
It was his job to teach me to lift objects only with my thoughts. First, he ordered me to clear my mind, to think of nothing at all. In technical terms, he was asking me for the chance to take a baseline reading of my brain for comparison with later readings. Then, he pointed me toward a large stone, and instructed me to think of lifting it and to hold the thought for a time. Soon, the stone started to move. Then I had to prove what I'd learned by trying to lift a few other items on the landscape. Pretty exciting.
Emotiv has not yet released what games will include native support for the headset. The cognitive interface that reads conscious thoughts will be usable with current games, however, since it will allow mapping to existing key controls. That means that you could map the headset's output to replace the familiar WASD setup, allow for quick access to hotkeys, or anything else you can come up with. The headset will be able to recognize between ten and fifteen different thought commands. It may also include a head tracking system, but this feature wasn't present in the demo model.
The headset is set to ship later this year, but Emotiv is taking pre-orders via their website at $299. The headset will include an Emotiv-built game at launch. Other supported games will be announced along the way.
Final Thoughts
Using the headset was a really cool experience, but one that would take some getting used to. It felt strange to have to think of something and have the game react. What do you think of? For how long? Plus, you have to think of the same thing each time since the headset doesn't really know what you're thinking, it just recognizes a pattern of brain activity that you mapped during the training. With practice, though, I think it would feel more natural. There did seem to be a bit of lag in the system, most obvious with the facial expression monitor. A wink or smile took a short, but noticeable, delay before they appeared on-screen. Still, this is the kind of technology that will take gaming to the next level.