Special: Ah! A three-headed snake!
With
Metal Gear Solid 4: Guns of the Patriots
little more than three months away,
Konami
has decided to release all three games in the series in one package. This gives fans both old and new the perfect way to catch up on the series or maybe just to collect some awesome games.
For your $29.99 you get the best versions of all three Metal Gear Solid games and a cardboard box holder. While overall this collection is a bit of letdown compared to the Japanese one, we will take what we can get and getting both the rare
Metal Gear Solid 2: Substance
and the not-so-rare
Metal Gear Solid 3: Subsistance
for the one price is a bit of a bandage on the wound, since they retail for $24.99 a peice. If any collectors notice a missing disc in the
Metal Gear Solid 3: Subsistance
DVD box, that is because the second disc was for the now defunct, online gameplay. The servers were shut down in North America on April 7th, 2007. Without the servers,
Konami
didn't feel the need to add the second disc. However, this does not explain the lack of Snake's first two adventures, Metal Gear and Metal Gear 2, which were also on the second disc.
Also in the box is the original
Metal Gear Solid
for PSone. Staying true to the game's origin,
Konami
has dusted off their PSone disc makers and proceeded to manufacture what many fans call the best version of the game that started it all. While the game doesn't look anywhere near as good as the remake on the GameCube, fans all agree that the overall feel of the game is better on the PSone version.
The only thing missing is the PSP-only
Metal Gear Solid: Portable Ops
. Why leave this one out of the collection? We don't know either, but the game doesn't retail for that much so if the new fans really want to get the next chapter of Big Boss's story, there you go.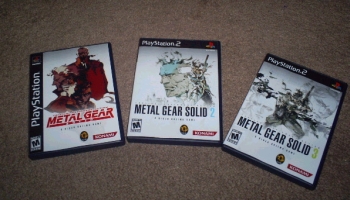 The last thing and probably one of the more appealing aspects to only collectors, is the artwork of the DVD sleeves. Deciding not to go with the generic case renditions, each game has a new cover that is more than eye-pleasing, especially the cover of
Metal Gear Solid 1
.
While this collection may be incomplete, it is still a great way for newcomers to get acquainted to the series and a nice addition to any collector's shelves without breaking anyone's wallets.