Specials: Matt Swider and David Taylor are taking in Los Angeles and all of the yet-to-be-released video games of E3 2008.
Thursday, July 17, 2008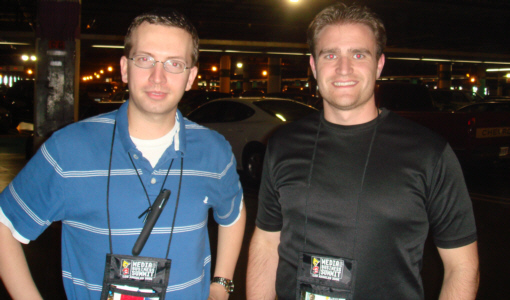 04:00 PM Pacific
- The final day of E3 began with an appointment with Microsoft, where I met with former Gaming Target writer and current Edelman employee
Akash Suri
. He wrote some of this site's first articles back in 2001, and it was a delight to meet him for the first time. Also a delight? Playing Halo Wars for the first time. The game takes place 20 years before the trilogy we all know and love and plays exactly as you'd expected a good console RTS game to play. I also got some time with Banjo-Kazooie: Nuts and Bolts for Xbox 360, the first Rare game I couldn't wait to play in a long time. Like Halo Wars, Banjo plays "as expected," which became a theme for this year's E3. Almost everything we previewed was great, but not beyond the gamer at home's imagination.
The one game that really impressed me upon playing it was You're in the Movies. Freelancer Tim Stevens and I went head to head, performing mini-games in front of an Xbox Live Vision camera, which will come bundled with this unpriced game. After trying to score points by punching targets, running a marathon, dancing around aimlessly, and pointing and screaming at the camera, the game splices all of the mini-games footage and reassembles them as scenes in a B-movie. In our case it was "Cold Blooded." This is definitely a fun game for the casual audience that Microsoft is trying to target and a serious EyeToy competitor. I just hope that my dancing doesn't show up on Xbox Live any time soon.
Up next was Ubisoft, where I checked out Brothers in Arms: Hell's Highway and Tom Clancy's EndWar. Two ways in which Hell's Highway differs from Call of Duty?: 1) It retells the events of Operation Market Garden with historical accuracy like never before and 2) You can't survive if you want to run-and-gun. Like the two previous games, you have to position yourself well, direct your squad and suppress the enemy instead of taking them on as if you were Rambo.
While the single-player missions in BiA: Hell's Highway will cover ten days plus flashbacks (tying it into the rest of the series), the multiplayer will consist of 10-on-10 battles with one tank per team.
Tom Clancy's EndWar couldn't be more different from the previous RTS game I played, Halo Wars. Here, it's all about realism, not sci-fi; uses a zoomed-in camera, not the standard overhead RTS view; and has a lot of menus that might be confusing, not the clean look that Halo Wars presented. Despite all of its options, EndWar uses voice commands exceptionally well, allowing you to direct strikes all around the map without issue. It also has a lot more depth, which should give it a strong PC and 360 following (though it also releases on PS3 and both handhelds) when it releases on October 14.
Next up was Sega at noon, where I saw the next Sonic game (the best looking game since Sonic Adventure on the Dreamcast), Alpha Protocol (Mass Effect clone), Mad World (Sin City-like video game by Platinum Games--looks good, but releases next year), and Bayoneta (stylish Heavenly Sword-like game also by Platinum Games).
Sony wrapped up the final day of E3, which was two hours shorter than the first two days. David and I sat down with Buzz! Quiz TV for PS3, but due to the limited amount of time, told the game's producer that we wouldn't stay for the entire seven rounds. At least, that was the plan. We finished an entire game and got the scoop on what to expect when it launches in September.
Buzz! Quiz TV will comes with four wireless buzzers (like the first game, but without annoying cords) and support up to eight players. The Blu-Ray disc will come pre-loaded with 5,000 quiz questions and more questions can be downloaded in the future in packs of 500. You will also be allowed to create your own quizzes, share them and rate other people's questions.
Moving away from the family-friendly Buzz! for PS3, I played a series of more violent games: SOCOM: U.S. Navy SEALs Confrontation, Resistance 2, Resistance Retribution and Killzone 2.
We'll have previews of these games and everything we played over the next two weeks, so check back every day for hands-on impressions starting with Fallout 3.
So long from L.A. I hope to be back next year for my 7th E3 (if it lasts).
Parting Shot: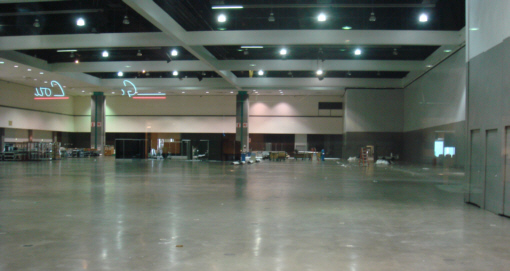 A small part of West Hall and 1/16th of the floor space of the old E3.
Wednesday, July 16, 2008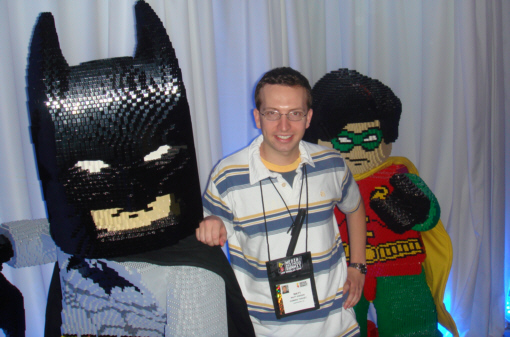 06:00 PM Pacific
- I fully intended to go to Gov. Rick Perry's press conference this morning, but realized my time could be better spent elsewhere. They really need to have keynotes during non-gaming hours and treat us to a free breakfast like previous E3 years.
My first "appointment" was with EA at the company's Software Showcase, while I had a second appointment later in the afternoon at the EA Demo Room. The difference? The first one was a non-appointment. No desk, no check-in area, but no getting time with games ahead of people without appointments. I didn't mind waiting my turn, but I would've booked something else if I knew this was just going to be the LACC version of the Barker Hanger.
So, I decided to start the morning playing Skate It on the Wii Balance Board and played drums for Weezer's Buddy Holly on Rock Band, then hovered over to some LittleBigPlanet at Sony adjacent open booth.
Skate It was fun, though, it did look like an inferior version of the 360 and PS3 version of Skate released last year. For example, there's no "traffic," so the game doesn't look quiet so busy. The trade-off, like most 360/PS3-to-Wii ports is that the motion controls add a little bit of innovation as well as a little bit of frustration. It seems like the more hardware you add to Skate It (I started with just the Wii remote, added the nunchuk and finally added the Balance Board), the more fun and less frustrating it becomes.
While I did play Rock Band 2 on the Pavilion floor during my first "appointment," it was only in preparation for my noon demo with Harmonix at the Reverb meeting room. There, they had the $300 Ion drum kit with three cymbals in addition to the four quieter drum pads. I played The Who's "Pinball Wizard" while trying to adjust the new setup.
My final Wednesday appointments were with Warner Bros. and Nintendo. At Warner, LEGO Batman looked like it could be the ideal LEGO game, besting Star Wars and Indy. As Traveler's Tales pointed out, Gotham City presents a richer environment compared to the bland earth-tones seen in the Indiana Jones series. As long as you're not tired of the LEGO gameplay and don't despise Batman, you'll like LEGO Batman. The same can be said about Warner's other sequel game, Project Origin, the official sequel (except in name), to F.E.A.R. The developers demonstrated how the AI is much smarter and how players can manipulate the environment to their advantage. Enemies aren't the only ones that can flip over tables and take cover behind them. There will be multiplayer, but since Project Origin isn't releasing until next year, there weren't any additional details on that aspect.
During an end of the day appointment at Nintendo's meeting room, David and I got to check out Wii Music, Wii Sports Resort and Wario Land: Shake It. Wii Sports Resort is made up of jet skiing, Frisbee throwing and sword fighting. We played the latter two. Frisbee was okay, but we had the greatest sword fighting battle in Resort's very short two-day history. I won the first round, David came back to beat me in the second and the third and final battle took place on a much smaller platform that raised up from our original battleground. Before the third round even started, we were both flailing about, tiring ourselves out until I won and ended our game playing for the day.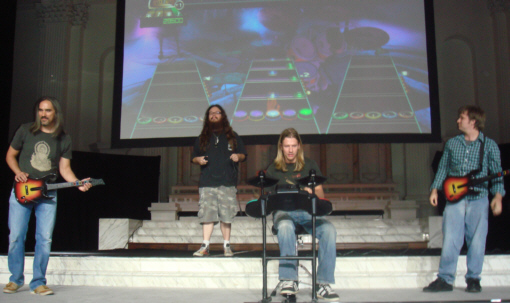 12:00 AM Pacific
- Activision had its non-E3 Press Conference a couple of hours ago. As expected, there was an assortment of odd food there, though, the enjoyable mashed potatoes and chilli combo didn't surprise me as much Sony's sausage wrapped in bacon smothered in mushrooms triple-heart attack snack.
Actor/comedian/gamer Nelson Diaz was the "celebrity" host, which is a step down from last year's host because we still don't know who Diaz is, but a step up from last year's host because he's
not
Jamie Kennedy.
Raven Software's Singularity was the first game talked about. It supposed to "break new ground" when it comes to manipulating time. Although Raven has had experience creating high-profile games like Star Wars Jedi Knight and Marvel: Ultimate Alliance, we can't help by wonder if there's any ground to be broken when it comes to games where you control time.
Speaking of Raven's comic book beat-'em-up, a sequel called Marvel Alliance 2: Fusion is being developed (but not by Raven, apparently). There will be 24 playable superheroes and villains, which include the like Venom and Green Goblin. Plus, there'll be a way to create new customizations for your hero squad, hence the "fusion" element.
Wolverine is getting his own game to release alongside the May 2009 flick X-Men Origins: Wolverine. Likewise, Transformers: Revenge of the Fallen is being developed by Luxoflux for Michael Bay's Transformers movie sequel. The movie is schedule for June 2009, so we can expect the game to tie in with a similar release date.
No Tony Hawk game (or Tony Hawk appearance) was shown this year, but Activision did deliver on another E3 staple: Spider-Man. Not based on a film this time around, Spider-Man: Web of Shadows will allow on-the-fly switching between the Spider-Man suit and his black suit. The difference is more than cosmetic, too. While red suit gives players more agility and web-based abilities, the black suit is all about power and strength. The trailer demonstrated a thrilling battle with Vulture, so as long as the developer can keep the rest of the gameplay varied, Web of Shadows will make up for Spider-Man 3.
Even though Call of Duty: World is being developed by Treyarch, makers of the inferior Call of Duty 3, and is set back in World War II, the new game is using the praise-worthy CoD4 engine. Building on that, the game will debut flame throwers and tanks, four-player online co-op, two-player split screen local play, competitive stats in co-op and Kiefer Sutherland as the voice of one of the main characters. Since Jack Bauer himself is one of the badasses behind CoD: WoW, we'll give Treyarch a pass and see how the company does this fall.
In addition to being down on non- Infinity Ward developed Call of Duty games, we've also been unsatisfied with EA-developed James Bond titles for years. Activision secured the rights to the 007 franchise in May 2006 and for two years we've been waiting to hear about the secret agent's first next-gen mission.
James Bond: Quantum of Solace (also by Treyarch and also using the CoD4 engine), blends first and third-person gameplay to tell the stories of Casino Royal and upcoming Bond film Quantum of Solace. The latest footage showed a Daniel Craig-modeled 007 clear several hotel rooms by setting bombs and then shooting the remaining enemies. Targeting them with a gun revealed that the game won't use a normal reticle, but incorporate the gun barrel eye from the classic intro.
id Software showed off the latest Wolfenstein game for 360, PS3 and Windows. Your character, described as part spy/part commando, is out to disrupt the Nazi's experiments involving portals to other worlds. With an underground organization known as "the resistance," expect team-based and objective driven gameplay in addition to a lot of sci-fi weapons.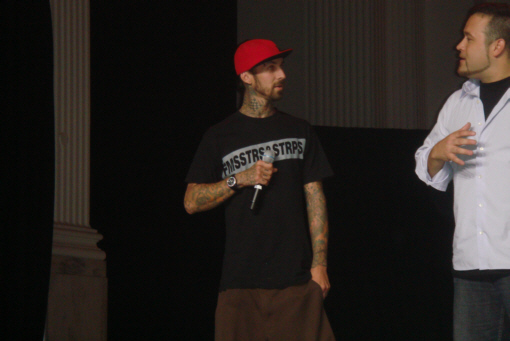 Activision's non-E3 press conference ended on a high note with Guitar Hero: On Tour, the fourth official game (not counting 80s Edition or the recent Aerosmith title). Though the microphone is wired, everything else, including the new drum set, is wireless. The drums are also quieter than the original Rock Band set, give you a better bounce response and can use a Y-splitter for a double bass pedal. Travis Barker came out on stage and approved it (we were a little worried until he gave it the thumbs up) and the Neversoft Band treated us to a rendition of "Hot for Teacher."
Tuesday, July 15, 2008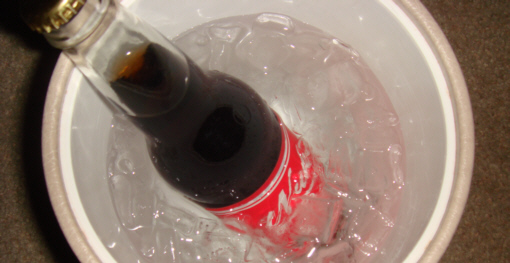 06:00 PM Pacific
- My first appointment was for Fallout 3 at 2 PM. I'm glad I made it at that time instead of taking an earlier 1 PM slot--6 years of E3 experience have taught me that a) Press Conferences don't start on time, b) Press Conferences don't end on time, and c) buses in Los Angeles don't travel very fast in downtown traffic at lunch time. You can read about my experiences with the game in my
Fallout 3 preview
.
I also stopped by D3 Publisher today and checked out almost every single game Capcom had to offer. I was really impressed with Flock! and Dark Void. The only game I didn't get to check out yet was Resident Evil 5. It looks amazing.
02:15 PM Pacific
- The press conferences of ?the big three? are finished and it's off to the Los Angeles Convention Center for two and a half days of actual gameplay.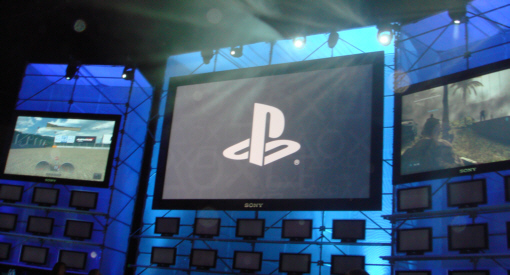 02:00 PM Pacific
- A lot has changed since Sony's last E3 press conference, the most important of which is that PS3 is no longer being written off as dead weight. As President and CEO of SCEA Jack Tretton noted, ?this is the year of PlayStation 3.? He demonstrated how the PlayStation brand is still capturing the market, citing sales numbers through a humorous LittleBigPlanet presentation and thankfully skipping the boring PowerPoint statistics. But more telling than
how
PS3 and PSP hardware inched closer to their competitors is the reason
why
the gap is starting to close. Two words: the software.
System sellers over the past year and a half have included Gran Turismo: Prologue, MotorStorm, Uncharted and, of course, Metal Gear Solid 4. They'll soon be joined by a strong fall lineup of games. Resistance 2, SOCOM Confrontation and LittleBigPlanet are all expected to ship by November. Further down the road, two previously unannounced titles, God of War III and MAG, join games like inFAMOUS and Killzone 2 in 2009. Although not much was shown of either, MAG developer Zipper Interactive did boast about its game's 256-player capabilities. Yes, the mere notion of a Massive Action Game like this one reminds us all of PlanetSide. But you have to keep in mind Zipper's vast experience with the tactical shooter SOCOM, which still has a strong following on PS2.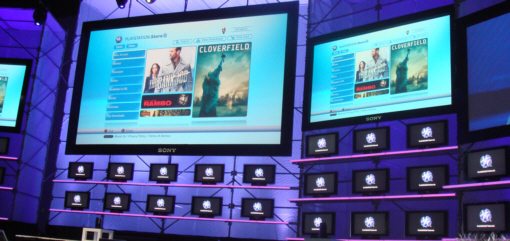 Two more words: ?Blu? and ?Ray? and a dash thrown in the middle also matter. The HD format war ended in the spring with Sony's Blu-Ray winning over Toshiba's HD DVD. This is a boon for PS3, the best Blu-Ray player on the market and a loss for Microsoft, which backed HD DVD with an add-on player, now a paperweight. Expanding on its home video dominance, Sony unveiled a video download service on PS3 for movies and TV shows. Starting tonight, movies can be bought from $9.99 to $14.99 or rented from $2.99 to 5.99, while TV shows can be purchased for $1.99. The best part is that they can be transferred to the PSP for on-the-go video.
Not to be forgotten, PSP had one big game shown off: Resistance Retribution. This newly announced third-person addition to the Resistance series won't be out until Spring 2009, but looks as if it could be a quality handheld shooter for many reasons. For one thing, Sony Bend, the developer behind the game, has done quality work with the Syphon Filter series for three generations. Also, the last two of seven Syphon Filter games were worthy PSP editions.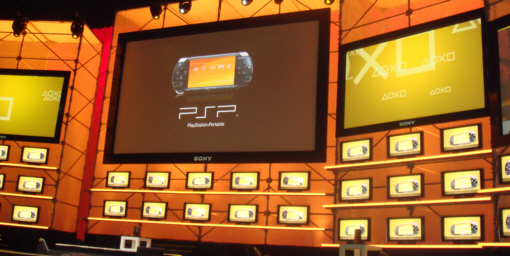 On the SKU front, while Sony didn't reduce the bottom line price of the PS3, it did drop the price of its 80 GB model from $499 to $399, replacing the 40 GB version, which cost the same low price. PSP will also receive new bundles: one for Madden NFL 09 (which we already knew about) and another for Ratchet & Clank: Size Matters (which we didn't know about before E3).
Except for MAG, there weren't many bomb-shell surprises at Sony's Press Conference, and there were some disappointments (no lower bottom line price for PS3 or release date for Home). However, we walked away from the Sony Press Conference feeling as if the widely used ?Year of the PlayStation 3? banner had a chance at coming true.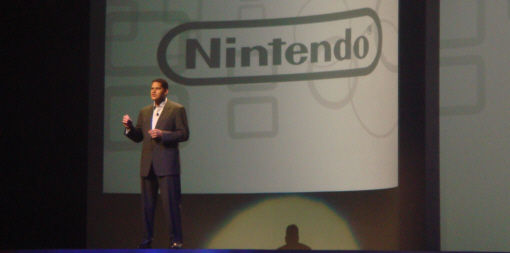 11:00 AM Pacific
- Nintendo forgot to address the hardcore gamer during its annual E3 Media Briefing at the Kodak Theatre, but did come through for its new core audience: the casual gamer. While the Mario and Zelda teams are hard at work on games yet to be announced, the best that mature players got was Animal Crossing and Shaun White's Snowboarding. Both include peripheral use. Animal Crossing: City Folk will use a new microphone/speaker system to broadcast the conversation in an entire room, while Shaun White's Snowboarding from Ubisoft will expand on the Wii Balance Board's use.
Even though Nintendo President and CEO Satoru Iwata said the company isn't going to take the easy way out any time soon by releasing a Wii Sports 2, less than a year later, the company has just unveiled Wii Sports Resort. How do we feel about this flip-flop? Just fine. So far, the game includes three ?sports,? Frisbee throwing, jet skiing and sword fighting, all of which use the remote's new MotionPlus add-on.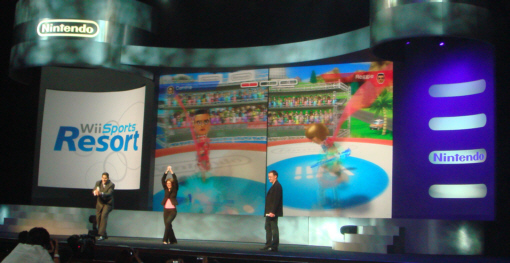 Wii Sports Resort seems like it could be enjoyed by anyone, while Miyamoto's on-stage announcement of Wii Music might skew a little younger. Unlike a Guitar Hero clone, this ?game? has no evaluation of your playing abilities; you press away on the Wii remote's button and shake it to mimic more than 50 instruments.
The one surprise announcement at the Nintendo Media Briefing came from a third-party. Rockstar is creating a GTA for the DS called Grand Theft Auto: Chinatown Wars. It's supposed to release before the end of the year, but a logo was the only teaser we were treated to. No video, not even a single screenshot. Other DS announcements that were present include Guitar Hero: On Tour Decades, Pokemon Rangers: Shadows of Almia, and Cooking Guide for your holiday recipes and more.
Iwata did talk about how Nintendo is challenging itself to meet the demands of its hardcore crowd, but missing was a subsequent announcement about a Kid Icarus, Metroid, Zelda, or Mario game. Wii Sports Resort, along with its MotionPlus accessory, could be appealing to everyone, but even that doesn't launch till 2009. Animal Crossing: City Folk doesn't seem mature enough for most gamers to get by until then, which will leave most of us ?Wiiping? when it comes to Nintendo's 2008 lineup.
Monday, July 14, 2008
05:00 PM Pacific
- The Electronic Arts E3 Press Conference: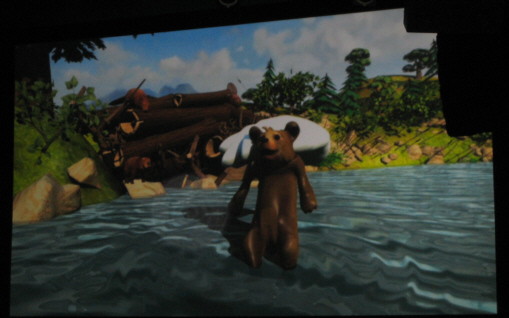 No humans, no buttons, no dialogue; Sim Animals was the first game shown off. This Wii and DS-bound title will allow players to have a hand in the life of the wild, saving cubs from the dangers of falling into streams. This PETA and kid-friendly version of The Sims will be available January 2008, just in time for the youngsters to spend their holiday money.
Rounding out The Sims announcements, The Sims 2 store just launched and EA showed off another trailer for The Sims 3, which won't be out until 2009.
EA's next game, Dead Space, is the latest game to go feature Zero G in space, violent dismemberment and a HUD-less screen. Everything from the inventory menu to the weapons select screen is done through holograms that the character is seeing as well. While this won't be the first Xbox 360, PS3 and PC game to go the route of zero HUD and Zero G, the similarities to recent games won't stop there. The horror-filled outer space theme seems like EA's answer to BioShock. Expect to see Dead Space October 21.
Have you ever wanted to play the beginning of The Matrix, the scene where Trinity is running away from the cops and leaping between buildings. That's what Mirror's Edge reminded me of. Set in the first-person, you basically have "runner's vision," and climb crates and other obstacles to flee "the man" in this story.
Want even more Matrix similarities? The game isn't about shooting your way through levels to escape Big Brother, but you can steal weapons from the bad guys and use their own weapons against them (this happens in The Matrix when the first group of police arrive and Trinity commander's a cops weapon and forces the cop to shoot a fellow officer.
The end of the E3 trailer showed the Mirror's Edge character reach a helicopter, hanging from it much like the Morpheus rescue scene.
Finally, Lucy Lu must be pissed. When the artwork of the main character was shown at the end of the trailer, she reminded everyone of the actress.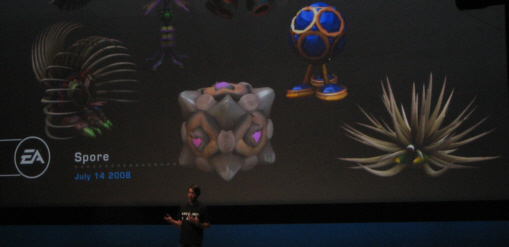 Will Wright arrived on stage at this point and showed more of Spore, the species creating simulator that launches September 7. He demonstrated some of the creative (as well as some of the creep) species people have created using the recently launched Spore Creature Creator software. The amount of shared creatures exceed Maxis' expectations within 22 hours and they had one million different types within a week. In fact, Wright joked that since gamers created the same number of species in the game as on Earth within 18 days (while The Bible says God did it in just 7), then gamers are 38% God.
With 85,000-plus YouTube videos already dedicated to Spore: Creature Creator and an appropriate promotional show tie-in with National Geographic, you can bet Will Wright has another sure-hit on his hands.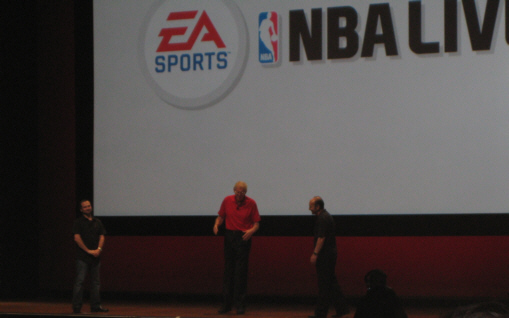 Peter Moore previews a small portion of the sports lineup of EA Sports, starting with Dynamic DNA for NBA Live 09. The name is nice, but to most people it's attributes with one big difference: they're updated daily based on how the bball player did during the previous night's real-life basketball game. You have player tendencies, team tendencies and "hot zones" around the net, all of which determine the behaviors and results of each player on a daily basis.
The other jazzed-up, sports-related name that is meant to "revolutionize" EA's online modes is Wii All-Play. All five sports titles are receiving this general audience- friendly mode built from the "ground up," and it was demonstrated on Tiger Woods PGA. It didn't go exactly as planned, so we'll have to check out how the balance between amateur and pro players is when we try it on the show floor on Wednesday.

12:00 PM Pacific
- About me saying that I'll let David have all of the early morning fun by sending him to
Microsoft's Press Conference
while I sat on a plane? Turns out it wasn't that much more fun. And, no, the plane wasn't better than what I expected; most of the Microsoft announcements were predictable and rather dull. A not so positive start to E3.
While I'll let David tell you what the Microsoft event did have, from what I caught from the choppy GameSpot video (you'd think premium members would get a feed to themselves without the weight of non-paying viewers), there wasn't a single revolutionary event that made me want to be there. No Halo Wars, no Newtown (the rumored motion-controller), no price drop (since it happened yesterday--another sign E3 isn't the show it used to be if a $50 price drop isn't worth waiting one day for) and no Peter Moore (now at EA Sports).
At least Moore will be showing up at EA's press conference at 3 PM Pacific, where I'll pick up my coverage.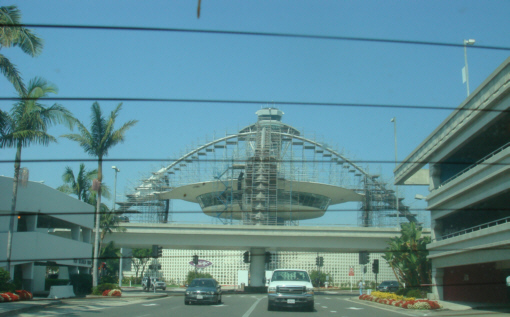 10:20 AM Pacific
- My plane just landed and David is checking into the Microsoft Press Conference. You can check out the news from the press conference
here
. I would've gone, too, but an extra $200 for a Sunday flight instead of a Monday morning one was worth letting David have all of the fun for one morning.
Sunday, July 13, 2008
5:34 PM Pacific
- Welcome to the Gaming Target E3 08 Trip Blog. Here, Matt Swider and David Taylor will write about their experiences in Los Angeles. Expect to hear about the tools they've packed in order to cover E3, their travel details (hopefully no delays for Matt; David already lives in L.A.), their take on Los Angeles this time of year, their opinion of the LA Convention Center setup, and inside looks at the get togethers and parties.
Traveling from Philadelphia, this is Matt Swider's sixth E3. David Taylor, staying right at home in Los Angeles, is attending for the first time.