Preview: May the jewels be with you.
Last year's Puzzle Quest: Challenge of the Warlords was the little game that could, a genre-bending sleeper that wowed gamers with its addictive gameplay, charming characters and deep-as-you-want-to-go RPG elements. So it's not surprising that Australian developer Infinite Interactive is hard at work on a sequel but don't expect the same medieval setting and continuation of the original story.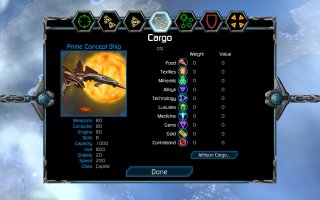 Instead, Infinite Interactive is looking into the future ? way into the future. Puzzle Quest: Galactrix is set 20,000 years from now where humans have explored the galaxy and encountered many alien races, some friendlier than others. One particularly nasty group of uglies wants to wipe out humanity, so naturally it's up to you to save the human race by kicking their butts in jewel swapping puzzles. Ha, let's see Master Chief do that!
When Galactrix was first announced last year, the developers didn't want to repeat the same Bejeweled-style gameplay with just a different story setting. As a result, the game was originally designed as a Collapse clone where you had to work quickly to clear out sections of same-colored blocks. Obviously something happened during development because they abandoned that concept and have returned to the traditional match-three gameplay but with a new twist. This seems like a good choice since one of the many appeals of PQ: CotW was that you didn't have to rush and could leisurely ponder your moves.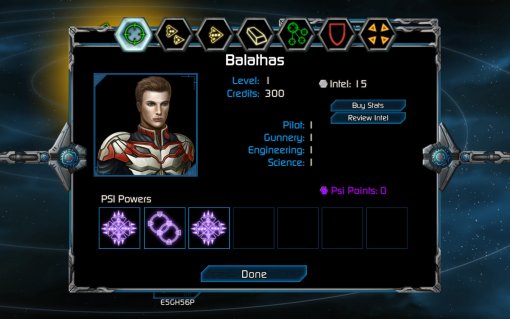 At first glance, the new board in Galactrix looks like a Hexic clone with hexagonal jewels arranged in a circle. However, instead of rotating jewels like Hexic, you swap adjacent positions just like in PQ: CotW to clear a straight line of three jewels or more. The twist is that jewels no longer drop from the top down; instead, they move in the direction of your movement thanks to the zero gravity of space. So if you move a piece towards the top left, more jewels will be pulled into the board from the bottom right. This innovative added dimension will require fresh new tactics and planning as you will now have to consider all angles instead of just one.
As before, you will accumulate various colors to power special attacks, but with spaceships replacing the original's magical spells. There are about 30 ships in the game that you can collect and customize as you progress through the story. Each ship has various attributes in Computer (green), Energy (yellow), Shields (blue) and Weapons (red), so you will need to plan ahead to choose the ship best able to tackle the opponent at hand. Experience points are earned by clearing white Intel jewels, while attacks are made by lining up space mines.
It's not just about blowing the crap out of bad guys, however. Each ship has different cargo capabilities, and delivering highly desirable cargo to needy aliens will put you in their good graces to earn much needed cash and maybe a few allies.
You will navigate the galaxy through your huge star map, which links several solar systems together. Jump gates allow you to travel to new sections of the galaxy but you will need to complete a mini-game to pass through each gate.
The story and dialogue in the original PQ: CotW was written by one of the in-house designers, who you have to admit did a pretty darn good job. This time around, they hired a professional writer so the story should be even more fun and engaging.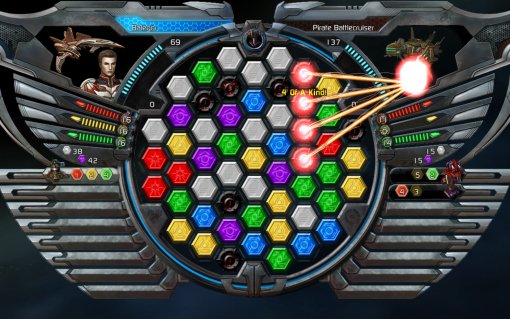 One of the biggest attractions of the original was the ability to take your character online and smack your buddies in the jewels. Happily, Galactrix will continue to support multiplayer battles across all platforms, online for XBLA and PC, and local for Nintendo DS. DS owners will be pleased to know that their version will be exactly the same as the Xbox 360 and PC versions, but naturally lacking the high resolution graphics and effects ? though having said that, the DS graphics still look pretty impressive.