Previews: It's a call from the past.
Developer n-Space's DS version of Call of Duty 4: Modern Combat was praised for its intense action that closely emulated its full-sized console brothers, but a lack of online multiplayer and some control quirks dulled the overall experience. N-Space has listened to the criticisms and is working hard to make Call of Duty: World at War the premiere first-person shooter on the DS.
First, the touchscreen controls have been tweaked to help reduce the chances of accidentally performing an action you didn't intend. For example, you will now be able to tap a dedicated icon to bring up your iron sights, completely eliminating any double-tap accidents (though you can still double-tap if you wish). Overall, the controls seem to have been tightened up over the previous edition, which is welcome news.
As you may know, the series is going back to World War II, this time taking place in the tropical jungles of the Pacific islands as you fight a determined Japanese force using deadly guerilla tactics. Enemies will hide in thick foliage but fortunately, you will have a handy flamethrower to clear out plants and enemies alike.
It's not all jungle warfare, however. In classic CoD style, there is more than one campaign; in addition to the Pacific theater, you will also fight on the Russian front in the waning days of the war. This means you will get to invade Berlin itself as the Nazis take a last desperate stand.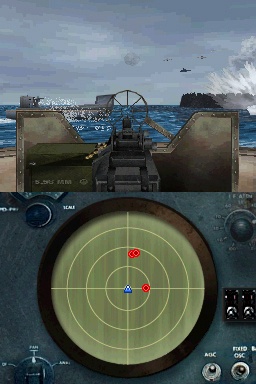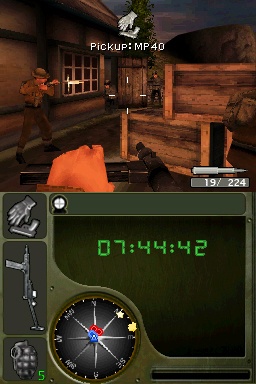 It won't be all FPS running-and-gunning, however. You will also be able to fight in tanks, shoot down enemy planes with AA guns, launch mortars, defuse mines, and even send Morse code messages.
The best news is that online multiplayer will now be supported. Console CoD veterans have known the joy of blasting friends online for years, and now DS owners can get in on the fun in four-player Deathmatch, Team Deathmatch, CTF and Hunter vs. Prey (similar to VIP) modes. Multiplayer (both online and local) will also feature the class customization, Perks and level up system of the console versions ? very cool! It's clear that n-Space really wanted to bring much of the full-sized experience to the DS and the new multiplayer features should keep players hooked for months.
The game uses the same engine as before which means it looks very impressive and really pushes the hardware. Sure, the DS is not renowned for its visuals but even the most cynical gamer can agree this game looks pretty darn good. You can also expect a return of the loving assault of extremely loud explosions, gunfire and screaming soldiers the series is famous for.