News: We'll be moonwalking in our living rooms in no time.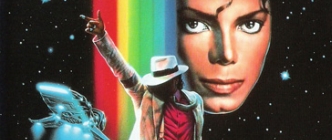 Last week, Sony Music Entertainment entered into a $200 million deal with Michael Jackson's estate to release ten new projects from the King of Pop between now and 2017. Last year's documentary/soundtrack album
This Is It
will retroactively become the first of these projects, but
The Independent
is reporting the deal will also include a brand new video game.
At the time of his death, it was reported that Jackson and his MJJ Productions production company were working on a new game starring the singer.
Just because Sony now owns the rights to all unreleased Michael Jackson material does not mean the King of Pop's next game will only be released for the PlayStation 3. As a subsidary of Sony, Sony Music Entertainment can shop the video game rights to whomever they feel will give them the best deal, as they did with multiplatform games based on the
Spider-Man
films and
Ghostbusters
, not to mention the dozens of different "Wheel of Fortune" and "Jeopardy!" games.
We'll have more soon.