News: And he'll be playable too.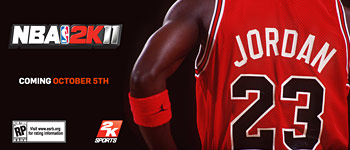 2K Sports has announced that His Airness, Michael Jordan, will be coming out of retirement to grace the cover of the publisher's
NBA 2K11
. Arriving in stores October 5, the game will not only feature the NBA's greatest living player on the cover, but he'll playable in the game as well.
?It's an honor to be featured on the cover of NBA 2K11,? Jordan said, in a statement. ?I have no doubt that NBA 2K11 will be a big hit with gamers and basketball fans alike. I'm looking forward to getting back out on the court, virtually. Let's hope they get my dunk from the foul line right."
It's currently unknown which platforms NBA 2K11 will land on, but last year's game (which featured Kobe Bryant on the cover) was released for the PC, PS2, PS3, PSP, Wii and Xbox 360.
We'll have more soon.