News: I wanna be, I wanna be like Mike.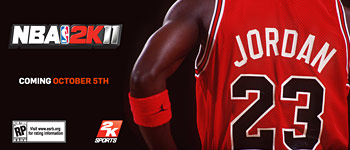 With the Lebron James sweepstakes finally over, 2K Sports has shifted the focus back onto King James' idol with the announcement of the new Jordan Challenge mode in
NBA 2K11
.
The Jordan Challenge will allow players to relive ten different games from Michael Jordan's career and challenges them to replicate what he did on the court in the game. The selection of matchups include some of Jordan's most legendary performances including his infamous "flu game" and Jordan's last game as a member of the Chicago Bulls:
[F]ans can try to stun the world in Jordan's self-described greatest game by torching the Cavaliers by 69 points in March of 1990; attempt to battle back from the flu to defeat the Jazz in Game 6 of the 1997 finals; or leave the world wanting more as they relive one of Jordan's finest performances during his last game as a Chicago Bull on June 14, 1998. In addition to The Jordan Challenge mode, gamers will have the unique opportunity to play as some of the greatest teams in NBA history, including the ?85-'86, '89-'90, '90-'91, '94-'95, '95-'96, '96-'97, and '97-'98 Chicago Bulls.
"Fans of the series are going to be thrilled to know that in NBA 2K11 Michael Jordan is much, much more than just a cover athlete," said Jason Argent, vice president of marketing for 2K Sports. "We're excited to start talking about the ways that Michael will be used in the game and there's still a lot more to come."
NBA 2K11 is scheduled for an October 5 release on the PC, PlayStation 2, PlayStation 3, PSP, Wii and Xbox 360.