News: NES-style, like a real Tetris player.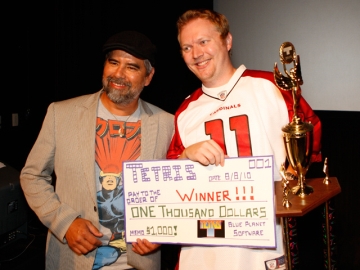 Last night, Jonas Neubauer was crowned the first ever Classic Tetris World Champion. The Classic Tetris World Championship tournament was held in Los Angeles and sponsored by Blue Planet Software, the company that holds the licensing rights to Tetris.

Neubauer, a 29-year-old loan coordinator from Redondo Beach, California, went head-to-head with Harry Hong in the tournament's final round. Playing the classic NES version of Tetris (the Nintendo one, not the Tengen one) in Marathon mode, Neubauer defeated Hong with a score of 530,034 to 517,590. All told, over 200 participants competed in the tournament.

Neubauer took home $1,000 for his victory as well as a starring spot in the feature-length documentary Ecstasy of Order. The film will take an in-depth look at the lives of the contestants as they battle their way through several rounds of constantly falling Tetris blocks.

Blue Planet CEO Henk Rogers was in attendance (as you can see in the picture above, he presented Neubauer with his grand prize trophy and oversized novelty check) as well as Tetris creator Alexey Pajitnov.

"Every year, Tetris picks up more and more momentum," Rogers said. "It's a real thrill to see fans come together to enjoy and celebrate the Tetris game."

Congratulations Jonas, you earned it.