News: A working spy camera? This has trouble written all over it.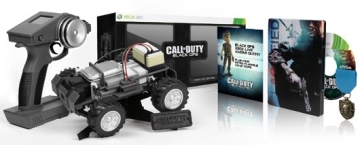 How do you top the "authentic" night vision goggles that were included with the Prestige Edition of Call of Duty: Modern Warfare 2? If you're Activision, you include a remote control car with a working spy camera in the Prestige Edition of Call of Duty: Black Ops.

Based on the RC-XD vehicle found in the game's multiplayer mode, the car features a range of up to 200 feet and transmits both TFT color video and audio to its operator. Aside from the possibility of political pundits yelling "Call of Duty turned my kid into a peeping tom!", this sounds like a pretty sweet bonus for PS3 or Xbox 360 owners willing to spend the extra money. Sorry, PC gamers, the Prestige Edition is console-only.



Other items packed within the Prestige Edition include a custom Black Ops limited edition medal, an exclusive Black Ops Avatar outfit and four playable cooperative maps. Like with Modern Warfare 2, Activision is also prepping a Hardened Edition of the game which will include all of the above items except for the RC car.

No pricing information has been released for the two special editions yet, but the Hardened Edition of Modern Warfare 2 launched at $79.99 while the Prestige Edition was priced at $149.99. Retailers expect Activision to continue that pricing scheme with Call of Duty: Black Ops.

The Hardened and Prestige Editions of Call of Duty: Black Ops will be released for the PlayStation 3 and Xbox 360 on November 9. Game-only editions for DS, PC and Wii will also be made available on that date.