News: With six-player online play!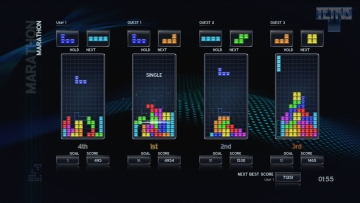 Electronic Arts has announced they're bringing Tetris to the PlayStation Network in December. This will be the first version of Alexey Pajitnov's puzzler to appear on the PS3 and it's coming in style, with 1080p HD graphics, 5.1 Surround Sound and three brand new multiplayer modes.

For single players, Tetris on the PSN will include 12 variants including the ever-popular Marathon. Tetris fiends the world over will also be able to save and upload replays of their best Marathon moments. Speaking of the world, the game will feature a ton of multiplayer modes including four-player local play and six-player online play.

Those online players will get the chance to take part in three exclusive multiplayer modes. Power Ups Battle mode is exactly as it sounds while Shared mode allows players to clear lines together with friends acros the world. But the most interesting new modes is Team Battle, a 2-on-2 competitive variant that offers the strategic option of playing offense (dumping lines on an opponents playfield) or defense (removing lines from your team's playfield).

No price was announced, but I'm sure EA will let us know before Tetris' December release. In the meantime, check out the game's first screenshots right here.